Almost anything is possible when it comes to special requests at top luxury hotels and resorts, where a team of concierges and butlers will do just about anything that can be imagined to please and pamper hotel guests to enjoy their vacations.
Armed with creative helping hands, they are there to fulfill pretty much any request. Here are a few luxury experiences that you might not even be aware of when staying at some of the world's most indulgent destinations.
Romance concierge
If you're planning to propose, you may want to enlist the help of the wedding specialists at The Legian Seminyak Bali, a member of the Leading Hotels of the World renowned for its extraordinary location, authentic culture and iconic design.
The resort's exceptional setting makes it the perfect choice for weddings, private celebrations, gatherings, and corporate functions. Created by Indonesia's most famous international interior designer, Jaya Ibrahim, all 67 suites have premium ocean views, with outdoor terraces or balconies overlooking the finest stretch of Seminyak beach.
The Club by The Legian offers 14 beautifully appointed villas set generously apart, each with its own walled garden, premium ocean views complete with swimming pool and the unparalleled service of a private butler.
The hotel's concierge service will happily assist in every way possible, from flight reservations and confirmations, sightseeing information, restaurant reservations and more.
Sleep doctor
From the food guests eat to the way they sleep, wellness is integrated into the whole Six Senses Hotels Resorts Spas experience that aims to enhance every aspect of the experience so you feel immediate, real benefits however long your stay.
Guests can combine the advice from the resident sleep doctors with numerous other benefits of yoga and meditation, relaxing treatments, wellness therapies and low intensity training.
The sleep programme is ideal if you need to improve sleep patterns, restore energy levels, de-stress and establish a sustainable sleep routine. It enables guests to feel better equipped to face the daily challenges and pave the way to a healthier and happier life.
Numerous benefits of the tailor-made sleep programme include boosting mood and energy levels, strengthening the immune system and slowing down the ageing process by maintaining a youthful disposition as well as improving memory and the ability to take in new information.
Pie turndown service
One of the best perks of travelling is enjoying a complimentary treat upon checking into a hotel. Some establishments offer a piece of chocolate, while others may hand you a warm cookie. Caldwell House Bed and Breakfast (B&B), located in New York's Hudson Valley, does things differently.
This B&B is giving visitors a huge slice of pie on top of every guest's pillow as part of its 'Pie on the Pillow' turndown service every September.
Yoga on an elephant
The Ananatara Golden Triangle Elephant Camp & Resort is another hotel offering services out of the ordinary – guests at the resort can practice yoga on an elephant.
Instructors will be on hand to guide and help guests balance on these magnificent creatures and practice some simple yoga positions. The Golden Triangle Asian Elephants Foundation, which is owned by the hotel, takes in abused elephants and provides the medical care and attention that they need.
At the resort you will be able to experience firsthand how these beautiful and intelligent animals are taken care of, fed and bathed by the caretakers.
In-room beer taps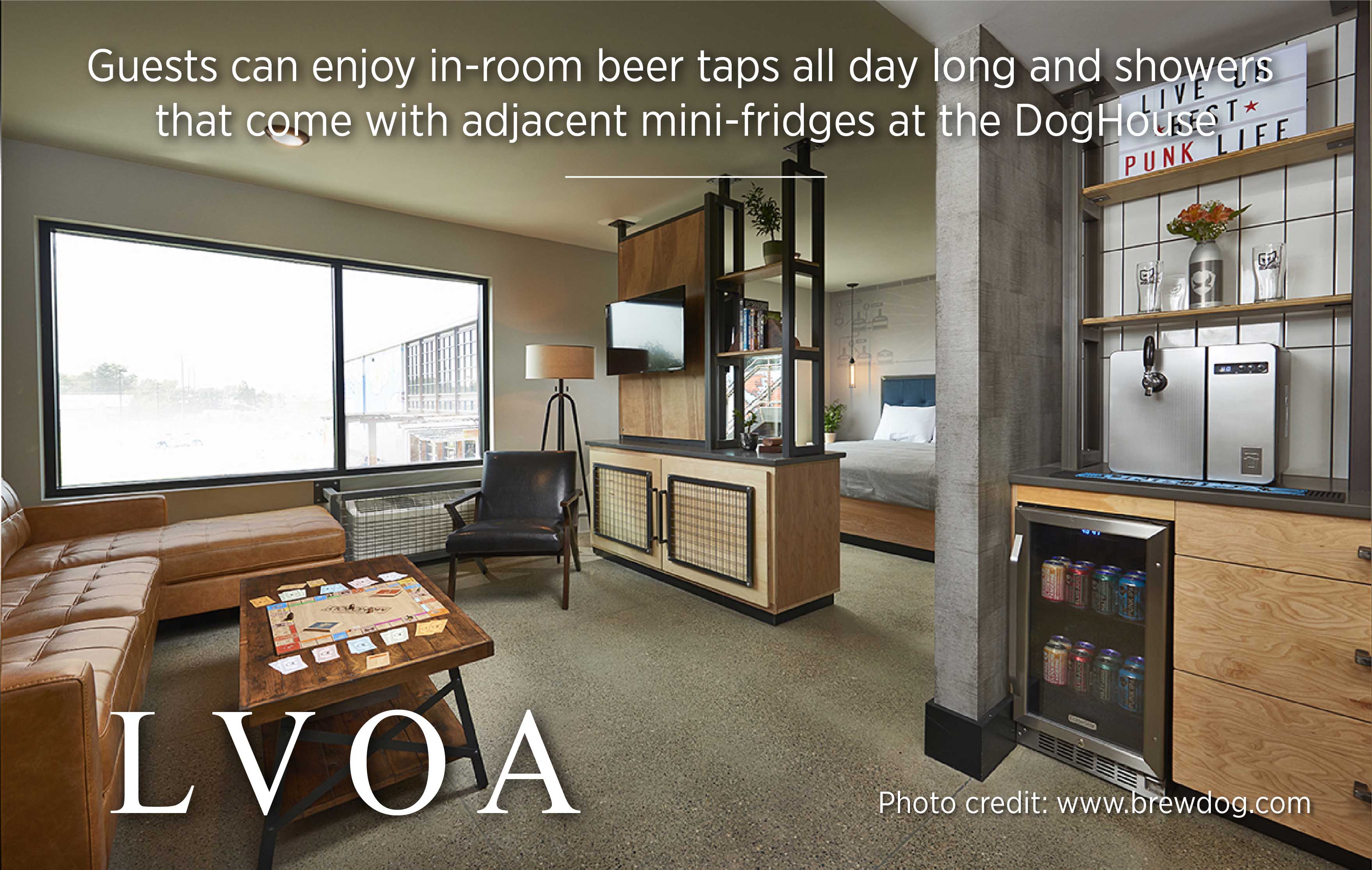 In 2018, BrewDog opened the world's first craft beer hotel named The DogHouse located inside a Columbus, Ohio brewery. Guests can enjoy beer all day long thanks to in-room beer taps and showers that come with adjacent mini-fridges.
Each guest is treated to a minibar packed with hand-picked brews, as well as a beer tap in the room to pour yourself a fresh pint as soon as you run dry.
Fancy bringing your furry four-legged pal? No problems as four of the rooms are pup-friendly, so you needn't worry about leaving your best friend at home! You can also hang out with your human and canine pals in the common areas available for guests to relax in, including the hotel media room where beer fans can watch TV shows.
In-room cocktail stations
All of the guest rooms and suites at the Troubadour Hotel New Orleans, Tapestry Collection by Hilton come with a cocktail station so that guests can mix drinks in their own room.
The station includes a recipe for the hotel's signature cocktail made of bourbon, old fashioned mix, and San Pellegrino Blood Orange, as well as other liquors, bitters, and tumbler cups with straws for guests to take their drinks with them.
An elevator bartender
At the W Los Angeles located at West Beverly Hills, guests who step into the hotel's elevator on Saturday evenings will find a Sip N Lift Cocktail Caddy. The in-elevator bartender mixes cocktails from the hotel's dining venues including STK Los Angeles and The Living Room Bar.
Customised aromatherapy
Las Alcobas Napa Valley offers guests the ability to create customised aromatherapy blends as part of its experience at the Atrio Spa. The spa, which focuses on treatments based on ancient healing techniques, also includes an apothecary-style aromatherapy blending bar. The amenity is available when booking any massage experience.
Luxury amenities
Guests staying at properties under the Maybourne Hotel Group, including Claridge's, The Connaught and The Berkeley, can look stylish on their vacation with complimentary Burberry trench coats.
The coats, available to use during stays, are located in the wardrobe of the hotel's suites once guests arrive, and guests who want to purchase a coat can also request one which the hotel will order from the nearest Burberry store location.
Popcorn delivery
The Lanesborough offers round-the-clock dedicated butler service in each room and suite, guests are assured their every need is well served – with thought, surprise and charm.
One of the lesser known amenities guests can request from their butler is a complimentary popcorn service. Sweet and savory popcorn selections come straight to the room on a silver tray.
In-room meditation
Instead of heading to the hotel gym, guests staying at the dream downtown property in New York can get workouts straight in their rooms through a partnership with Melissa Wood Health.
In-room plant menus
The Halcyon in Denver lets guests bring the greenery right into their rooms with its in-room plant menu. Guests can choose from a menu of plants they'd like to care for in their rooms and each plant includes directions on its care and where to place inside the room.
Outdoor adventures
New Mexico is home to all sorts of outdoor adventures, including hot air ballooning, as a nod to the region's international balloon festival, the Four Seasons Resort offers all guests a special hot air balloon-inspired treat upon arrival.
The welcome treat includes all the local goodies such as spiced nuts, Santa Fe beer, smoked in-house tomato jam, Albuquerque Gouda cheese and a chocolate- covered jalapeno. When you reappear in your room after your meal, your fireplace will magically be lit.
If you like what you just read click follow Larry Van Ooyen Associates Ltd and stay tuned for more articles from our Associates..