The most eye-catching feature of food presented on a conveyor belt system is the steady stream of plates winding through the restaurant for diners to choose from. These days, the selection is usually not limited to sushi it also includes drinks, fruits, desserts, soups, and any other tasty treats that you can dream of.
Humble beginnings of the Sushi conveyor belt
At a time when the world was obsessed with efficiency and production technology, Japanese innovator Yoshiaki Shiraishi (1914-2001), had problems staffing his small sushi restaurant and had difficulties managing the restaurant. So he worked with a small machinist to apply similar technology to raw fish and the rice trade paving the way to the first revolving-sushi restaurant in Osaka in 1958.
Shiraishi's conveyor belt sushi technology made Japan's most famous cuisine affordable & accessible to everyone. He got the idea for his revolving-sushi restaurant, known as 'kaiten zushi' literally meaning 'turnover sushi' while watching beer bottles rattle through an Asahi brewery's assembly line.
At its peak, Shiraishi as chairman of Genroku Sangyo had a chain of 250 franchise restaurants across Japan. Shiraishi also invented robotic sushi, served out by a robot, but the idea did not lead to commercial success.
Building on the conveyor culture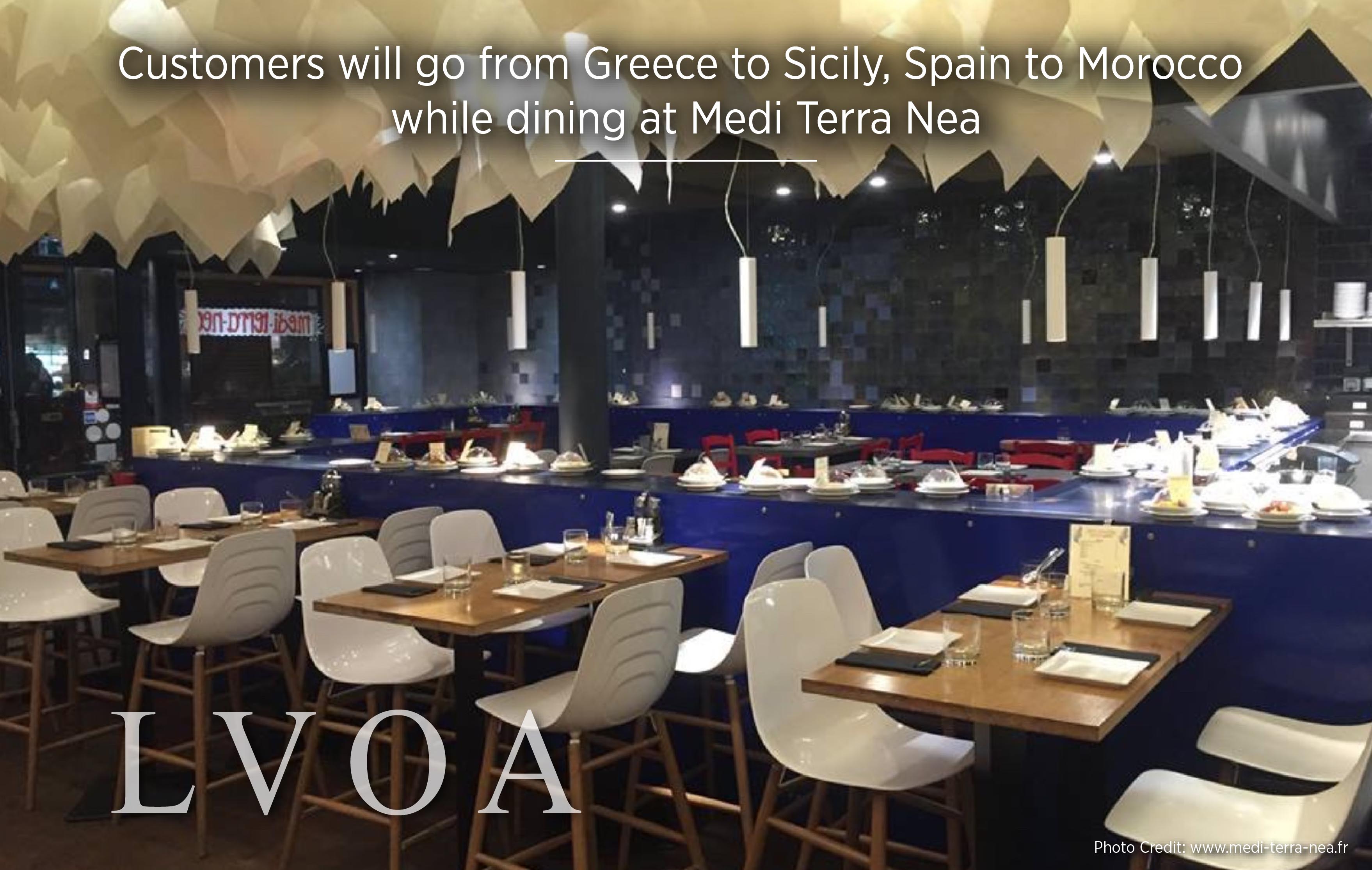 Kaiten zushi rapidly spread overseas with outlets in nearly a dozen countries, including the United States, England, Australia, France, China, South Korea and the Netherlands.
A new variant of conveyor belt sushi has a touch screen monitor at every table, showing a virtual aquarium with many fish. Customers can order the sushi by touching the type of fish, which is then brought to the table by conveyor belt. Now the conveyor belt idea has been adopted by those purveying other cuisines, with some chains even offering sushi by day and Korean barbecue by night. Others have resorted to RFID tags or have other systems in place to remove food that has rotated for too long.
Sweet Newcomer In Harajuku, Japan
Cafe Ron Ron in Harajuku, Japan is the first place to combine all-you-can-eat sweets with the conveyor belt concept. With both concepts being extremely popular for many years, it was only a question of time before they would meet. Cafe Ron Ron opened its doors in Harajuku on July 16th, 2018 as the only all-you- can-eat café of its kind. The café interior is inspired by fancy cafés in France and the desserts come on pastel coloured plates. Customers can purchase their tickets at the machine for a forty-minute all-you-can-eat course at Cafe Ron Ron costing 2,400 yen.
Visitors are seated around a big table and the thirty-five-meter conveyor belt in the middle transports the small treats around the restaurant. Conveyor belt sweets work the same way as the sushi version, if you like something you see then you simply take it. You won't be charged by the dish. Everything on the conveyor belt is included in your all-you-can-eat charge.
The dishes are prepared in batches and evenly distributed on the conveyer belt so you can't order single items. Make sure to take whatever captures your interests right away before it might be gone in the next round.
The outlet serves mini crepes filled with whipped cream and fruits, while another popular item in Harajaku is colourful cotton candy. At Cafe Ron Ron, you can enjoy the bite-sized version of the sugary treat in yellow or pink. Other popular items include tiny dango or sweet Japanese marble-sized rice cake.
The reason why the treats are small apart from the cuteness factor is to allow customers to enjoy many different varieties without feeling full after three or four plates.
Cafe Ron Ron is named after the sound a cat makes when it's purring, in French that sound is ron-ron. Thus a couple of cat-themed items end up passing you by on the conveyor belt. Sometimes whole cat shapes are attached to the dishes other times just tails or paw prints.
If you would like something savory before, after or in between your sweets you will be pleased to know that ten out of the thirty-five items Cafe Ron Ron offers are savoury. The savoury menu includes tiny sandwiches and potato salad in ice cream cones, fried noodles filled mini bun known as yakisoba pan and miniature steamed buns with meat filling.
Medi Terra Nea, Paris, France
French restaurant Medi Terra Nea serves food à la conveyor belt in a casual nook that attracts both tourists and locals. Patrons can pick from the little portions that turn continuously choosing from Mediterranean tapas, chickpeas, olive oil and squid. You will go from Greece to Sicily, Spain to Morocco. On the dish, there is a card attached with a name, description and price for the item. After you select your dish, the card is placed in a bucket on the table. At the end of the meal, the waitress adds the cards together and calculates the final bill.
However, the only items served on the belt are hors d'oeuvres and desserts. Diners can swoop up savoury dishes like Carmina Burrata, as well as sweet desserts like Creme Brûlée. Main dishes like steak must be ordered through the server which is understandable.
Chubby Cattle Restaurant, Denver, US
Now known as Rolls by Chubby Cattle Restaurant, the less-than-a-year-old spot is now spinning sushi rolls on the belt and delivering a do-it-yourself (DIY) ramen bar. It initially started off as the world's first refrigerated conveyor belt hot pot restaurant, complete with a train that delivered orders to your table to the tune of dramatic Star Wars' music.
Fans of the Cattle's cook-it-yourself, simmering soup can still head to the ramen bar instead of grabbing ingredients off the belt. To celebrate the switch, Rolls by Chubby Cattle Restaurant is offering an all-you-can-eat deal during lunch and dinner, which includes menu sushi, conveyor belt sushi and ramen.
Autobahn, Pune, India
India's newest conveyor belt restaurant on the third floor of Phoenix Marketcity is luring crowds to the innovative concept of Indian dishes brought to your table on conveyor belts. Just like the freeways in Germany called Autobahn, the aptly named restaurant is bringing food to the table in record time. The 72 seater dining concept is taking Indian cuisine and giving it an all-new look not by revamping the cuisine, but the presentation of it.
As you walk in, the hostess will take your details and will direct you to your table. The restaurant's interior is designed in a manner where a conveyer belt runs parallel to the tables. Once seated you have two options to choose from, you can either pick it up from the conveyer belt or order from the à la carte menu.
The dishes on the conveyer belt are characterised by the colour of the bowl which denotes the category. For example, the red bowls indicate non-vegetarian, grey denotes chat and salads, green stands for vegetarian and the blue bowl is for desserts. The dishes will keep passing you by, grab them and dig in. The portion sizes are perfect for two people to share.
Moving on to the more substantial food, the main course needs to be ordered à la carte and travels on the Autobahn via the Express Delivery System which stops right beside your table. Diners have 30 seconds to unload their dishes before it returns back to the kitchen.
If you like what you just read click follow Larry Van Ooyen Associates Ltd and stay tuned for more articles from our Associates..