Health boosting programmes have proven the most effective by integrating a holistic approach that are in high demand so that eco-luxury hotels around the world are now offering wellness packages that will make you feel anew. So if you need a reboot of the body and mind, here are some detox retreats around the world to do just that.
Detox retreats don't have to be expensive with various fasting packages that offer affordable, popular budget destinations that include Thailand, Indonesia, Philippines and India. Although detox retreats tend to be more expensive in western countries, these packages are often combined with wellness luxury treatments.
Phuket Cleanse Detox and Fitness Resort, Thailand
The detox retreat set in Thailand has been defined by guests as 'life changing' attesting to the detoxifying raw vegan diet as truly working wonders. Staying will allow a proper 'inside out' cleansing, with plenty of raw food, juices, smoothies and combined fitness activities.
Guests will be able to sweat out toxins with daily workouts, including beach boot camps, hiking and private yoga sessions. The resort further offers a variety of remarkable treatments to reset body, mind and spirit. These include magnesium therapy, hydration clay, ice bath, oxygen, and ozone therapies.
Detoxing in Thailand is about relaxation and there is something for everyone no matter the age or fitness level, designed to transform and optimise mind, body and soul.
Every meal at the resort is unique and provides a delicious range of plant-based raw vegan cuisine, healthy raw soups, cleansing detox juices, vegan protein shakes and even a raw dessert or two. It enables guests to kick-start new health and fitness goals and return home a new you person.
The Farm at San Benito, Philippines
Spa treatments in the Philippines are famous for their attentive practitioners, and The Farm offers some of the best as well as integrated medical services. Guests can get in touch with the Mother Earth's healing forces through organic vegan cuisine and the special energy work provided by the team of resident doctors.
The Farm specialises in raw vegan cuisine, which will restore balance to life with a personalised nutrient rich detox diet, but participants will also sweat out toxins with a personal training session and cleanse with detoxifying spa therapies.
The benefits of this detox centre is combining leisure sport activities such as golf, with spiritual spa treatments so that the body becomes stronger and the mind clearer, to cope with the challenges of modern life better.
Ananda in the Himalayas, India
Experience an un-spoilt haven and flush out of toxins, while effectively revitalising your body and mind in the Ananda yogic detox programme to help turn around unhealthy routines through numerous traditional yogic cleansing techniques 'shatkriya' and help remove toxins in a natural and long lasting way.
If you have a slow digestive system or metabolism, the detox programme will help you make necessary changes that will be easy to transfer to your everyday lifestyle back at home. Guests will experience a controlled diet, improved circulation of the blood and lymphatic systems with the help of natural detox therapies and nourish the body with delicious healthy cuisine.
Free from negative thoughts guests will enjoy a new fulfilled experience including improved mental clarity, purer skin, better digestion, increased energy and general improvement to the immune system.
Guests will be looked after by health professionals who use a variety of yogic postures, breathing techniques as well as meditation practice to gradually revitalise guests.
Bad Ragaz Medical Center, Switzerland
The exclusive medical center is an integral part of the Grand Resort Bad Ragaz where a highly specialised team of doctors and therapists have long put their trust in the power of thermal water and use it in various kinds of therapy.
The health retreat offers check-ups and diagnosis, nutrition and training, boosting the immune system, dermatological and beauty treatments and to assist with rehabilitation.
Everything guests require including check-ups, medical attention, aftercare and a comprehensive range of treatments is under one roof. The medical services have integrated the resort's own thermal water, the strengths and healing powers of which not only form the foundations of the Grand Resort Bad Ragaz but are also part of many of the therapeutic treatments.
Chenot Palace Health and Wellness Hotel, Azerbaijan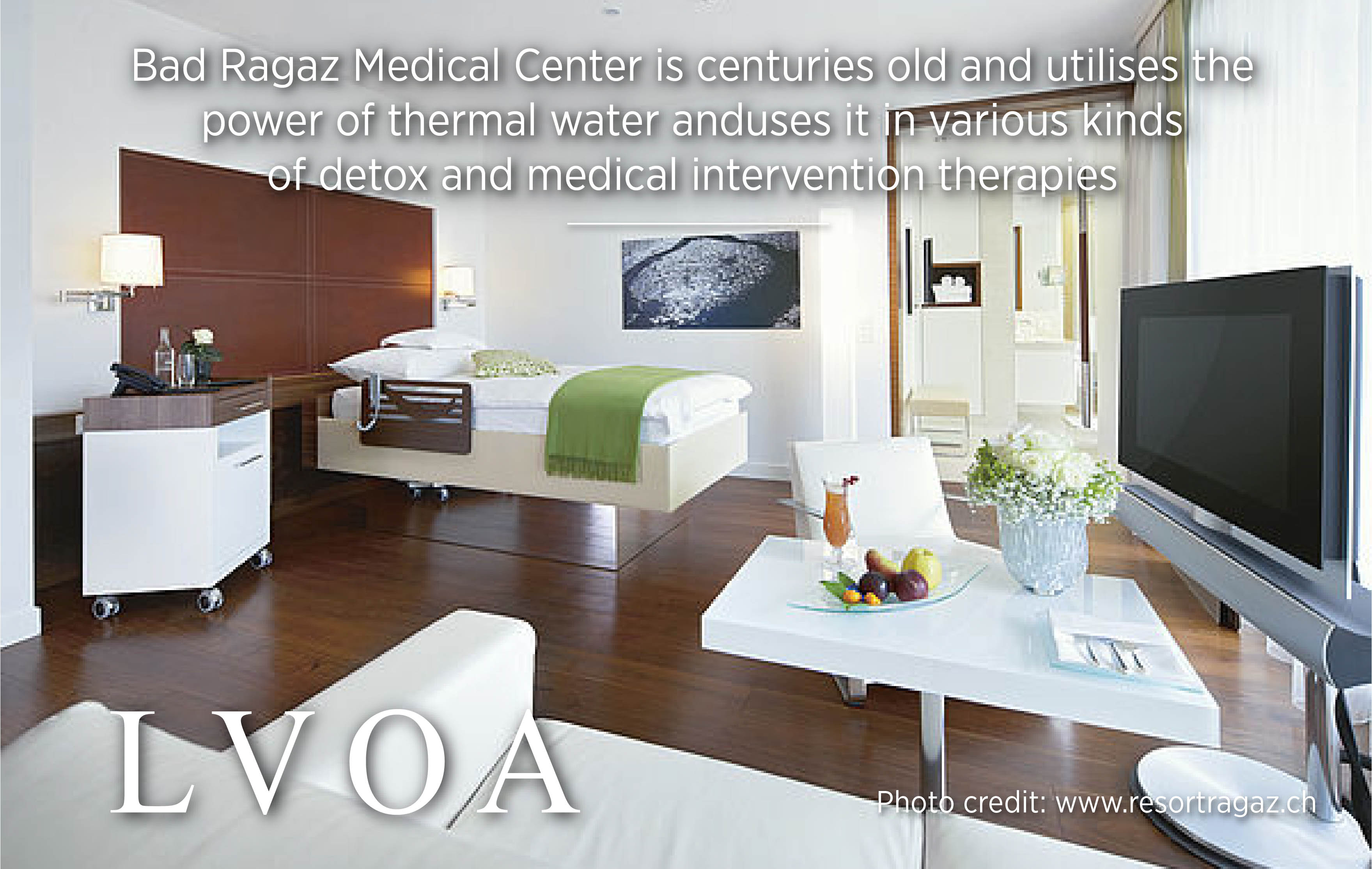 The top of the line health and wellness detox facility is the perfect programme for those who want to begin a lifestyle overhaul or as a regular cleanse that can be undertaken several times during the year.
Entirely dedicated to promote health and wellness guests will receive medical and spa treatments, checkups and individual diets within the luxury facility. The unique retreat located in Gabala is the perfect retreat where guests can detox and revitalise in perfect harmony with the environment.
Ti Sana Detox Retreat and Spa, Italy
The retreat is located at the foot of the Alps in North West Lombardy, Italy perfect for detox, weight and lifestyle management.  Guests are invited to revitalise and heal in the tranquil environment with the sincere welcome that the Italians are famed for.
Offering a comprehensive approach to wellness, Ti Sana's signature programme is tailored to combine organic vegan nutrition, therapeutic physical activity and holistic therapies and liver detox programmes to ensure guests leave feeling rested and ready to continue a new healthy lifestyle on their return.
The retreat's Ti Sana is a pun, since it both signifies 'it heals you' and refers to the beverage 'tisana' herbal tea infusion. Meals are served in accordance with the seasons and carefully selected to keep the body in harmony and balance.
The LifeCo Akra Antalya Centre, Turkey
Located within the five-star Akra Hotel, the LifeCo Akra Antalya Centre offers guests Europe's best result oriented options of healthy nutrition and detox programmes. Guests will feel renewed by a comprehensive set of therapies, a healthy nutrition plan and the ultimate soothing environment while loved ones enjoy the city of Antalya.
The special center on the Mediterranean is ideal for business trips and family holidays and offers guests a carefully prepared collection of detox programmes, wellness services and complementary therapies to reset their business environment without fully giving up on work that can turn the holidays into unforgettable memories.
Head to a juice detox retreat in Spain, a detox spa in Thailand, or create your own wellness retreat by pairing yoga meditation with a detox programme at a retreat center for a totally life-changing experience. Detox your body of toxins where priorities become crystal clear and emotions harmoniously flow as your body naturally thrives.
If you like what you just read click follow Larry Van Ooyen Associates Ltd and stay tuned for more articles from our Associates..