During most of this past year, the survival of many restaurants around the world have depended on deliveries and takeout's. The situation that the COVID19 outbreak presented to the world brought an immense challenge that no one saw coming.
However, in the face of adversity, the F&B industry displayed extraordinary resilience by revamping their business strategy and MO to adapt to the new still forever changing norm.
The food industry was a burgeoning choice in business before the pandemic, almost entirely based on hosting dining in patrons. And now, very quickly, most of them are providing online platforms for takeout and deliveries as the new norm. Even after the COVID19 pandemic is considered being under control, some of these new approaches and revenue streams may well remain as part of daily operations, elevating the industry to a new height. Here's what the future of food delivery and takeout may well come to.
One thing for sure is that even when the situation gets back to normal (the 'new normal' that is), some of the safety measures such as social distancing will be implemented for quite some time to come. This creates and provides opportunity for deliveries and takeout dining to supplement the revenue of restaurants. Part of the boost is due to the fact that a large number of consumers nowadays choose for convenience and like to eat in, unless they genuinely want to experience the restaurant atmosphere and feel.
Apart from restaurants, supermarkets and grocery shops as well as other food (wholesalers) retailers have smartly jumped on the bandwagon. It's a smart decision that consumers have welcomed and are enjoying. Even with the working from home situation, people appreciate the comfort of staying home instead of going through the hassle of shopping for groceries, with the imminent virus looming around every corner. Therefore, a significant percentage of local and chain suppliers have opened up a platform to deliver their products to their customers' doorstep. With the option to deliver or pick-up, business owners are not only giving the consumer what they wish for, but also tactfully securing an alternative income stream.
Although not many industry related establishments were able to flourish due to the pandemic, a new approach in F&B has made its way to be in the spotlight – Ghost Kitchens. This concept has not saturated the entire F&B industry as not every restaurateur has the capital on hand to invest in such a facility. Nonetheless, as the culture of delivery and takeout grows, so are the number of ghost kitchens. The idea of ghost kitchens or dark kitchens is on a deliver-only concept, it does not provide dining space. This helps restaurateurs reduce cost and test out the market without a huge financial commitment like opening fully operational restaurants. And the ghost kitchen concept is based on the principle that many entrepreneurs can rent only a part of a ghost kitchen, enough only for their own requirements and volume, which makes this a viable financial solution.
Despite these amazing ventures into the delivery and takeout business, there are still precautions that need to be taken to ensure the safety of all. Here are a few:
Delivery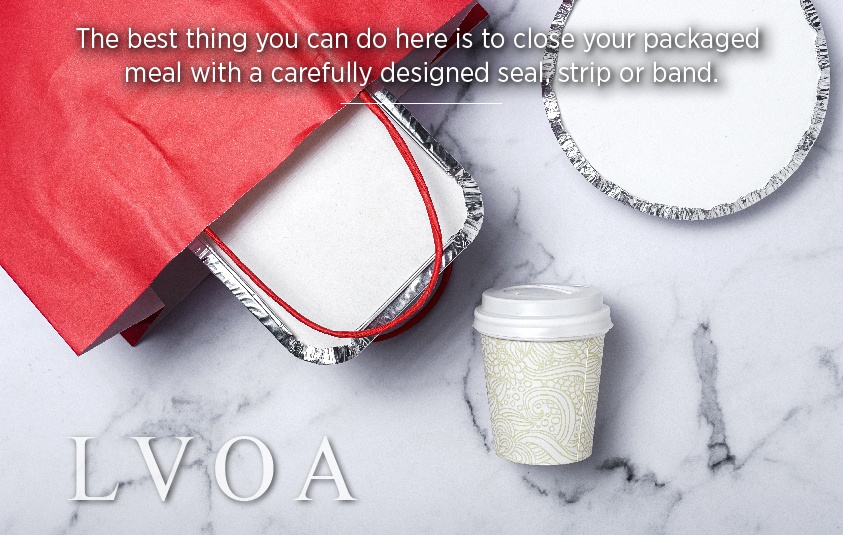 Try to avoid contact with the person delivering your food. Food delivering services now provide contactless delivery and it is recommended that we try to reduce contact as much as possible. This also includes contactless payment.
As a business owner, you should provide your drivers and riders with protective equipment from face masks to gloves and to hand sanitizer as they are exposed to many people and surroundings.
Studies have demonstrated that 1 out of 4 delivery drivers confess to taking food from a delivery. With the current situation in mind, it is vital to assure your customers that this won't occur. The best thing you can do here is to close your packaged meal with a carefully designed seal, strip or band, so your customer can have confidence that nobody has been in contact with their food after it left the kitchen.
Consider naming packaged food with the time and date of arrangement and offer direction, for example, warming or warming guidelines. This would not only allow your customers to enjoy the meal in the best way, but they would also appreciate the gesture.
Pickup
For pickup, set a capacity for the number of customers inside the restaurant ensuring everyone to adhere to the social distancing measures implemented. The simplest method to control the most number of customers inside the premises, is by controlling the entrance way itself.
Restaurateurs can also opt for a time slot for takeouts. A 5-10mins window would be sufficient, provided the restaurant clearly communicates the importance of punctuality.
As takeouts are becoming more common, restaurant owners can consider family-sized meals. Some restaurants even choose to provide cooking videos on their social media channel to encourage customers to buy their ingredients to make the restaurant's signature dish.
As limiting as the current pandemic makes us feel, it also provides opportunities to grow and create something completely out of the box. This is where social media becomes a huge part of your marketing strategy. Just as much as restaurateurs want their business to survive, customers also long for the dining experience. Hence as business owners, a consistent effort to bridge the gap will be fruitful in due course. Don't underestimate the power of the sense of community in crisis situations.