It truly cannot be denied that with the escalating cost of real estate in large metropolitan developments, hotel operators have opted for the concept of significantly smaller room sizes – this spurs the topic of what are the perspectives and shifts that both travellers and hoteliers alike face.
Optimising the space crunch
Past perception of hotels offering relatively smaller rooms denoted that they were in the budget category or 1- or 2-star hotel category devoid of any aspects of luxury at all. So how is it that compact rooms equals greater socialising?
Elevating guest space requirements
Switching to the present, the shortage of space has led to a new approach in hotel room interior design for the discerning luxury traveller. In the current hotel scenario, the small room category of between 12 and 18 square metres has seen the emergence of both low and high end outfits.
While some hotels stick to the minimalistic approach in their hotel design literally providing the bare basics of bed and washroom, others display super-efficient use of space packing in quality amenities offering guests the best of both worlds.
Some hotel chains think that today's travellers want a luxurious experience at their accommodations but that guests won't necessarily mind if their actual room is micro-sized.
Super-efficient set-up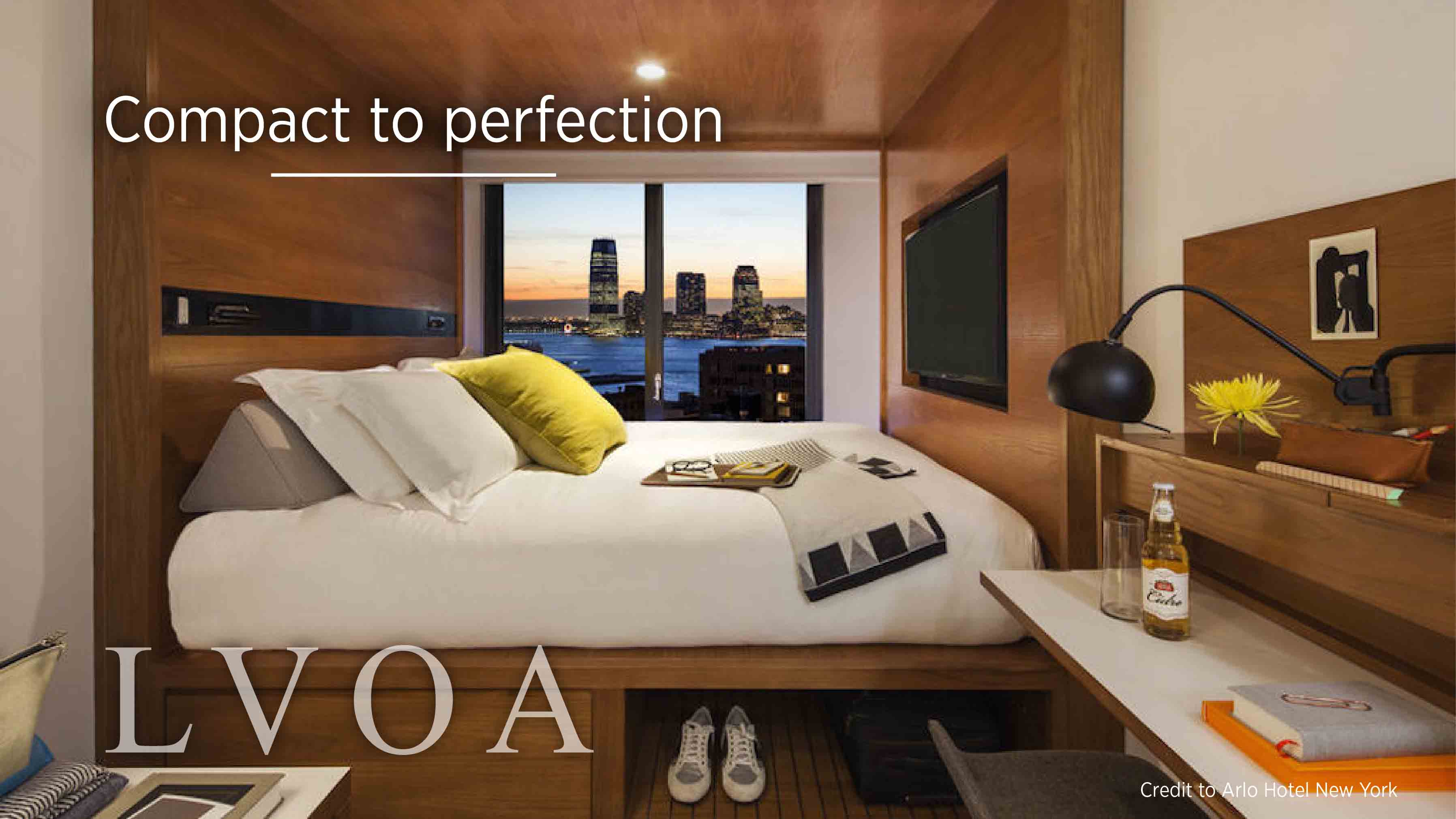 What we are seeing is emerging high end small room accommodations. What these rooms lack in size, they don't lack in substance, thanks to innovative designs and technology focused amenities. Guests get everything they want and nothing that they don't need.
These interior designs are super-efficient in using up every inch of available space providing guests the respectable level of luxury they expect. The rooms defined as cosy rather than claustrophobic provide the intimacy and charm without sacrificing the design aesthetics and food and beverage options that draw travellers.
It makes sense, as guests still enjoy their fix of ultra-modern amenities that they are accustomed to, yet at the same time they get the privacy that they expect. The downside is lack of space to move around.
Expanding the social floor area
While guests cannot flex their muscles in their own designated spaces something has to give, and we see the emergence of alternate large social floor areas typically situated in or near the hotel's lobby.
This hub of activities where all the integral hotel activities happen becomes the enabler for people hanging out.
Here guests not only check-in and check-out, they can dine at the hotel's in-house restaurants, catch up on work, stock up at the convenience store, conduct meetings, socialise with other in-house guests, meet up with colleagues and friends.
Daily destination
Today's travellers are savvy to the changing times. People are just more interested in having the social experience where they can interact with other travellers and where they can meet the locals.
To get around smaller rooms and the changing times, the stage is set for the future lobby scene where a large social floor becomes a major part of the travellers' daily destination for connectivity and a new experience.
It serves a specific purpose where guests determine 'alone' time when they can be isolated in their own oasis of privacy and comfort and offers time to 'hang' out to socialise at their own discretion and tempo, after all 'No man is an island'.