Selecting the ideal designer for an upcoming hotel property is the foundation for its success. Choosing the designer that you think has the right approach, one that knows how to translate a particular brief into a very good design is the beginning of a long and fulfilling relationship.
Hoteliers need to take into account that choosing a designer ultimately depends on the type of project to be undertaken and it applies to all design disciplines including architecture, interior, lighting and landscape design of the hotel property.
Finding the right people to work with – be it your designer, your builder, or other people on your team – is one of the most significant components to get the best from your project, and have things running smoothly overall.
Traits to look out for in choosing your designer
Do your homework
It's more about finding the designer that will suit your project. As with choosing any consultant, tradesperson, or professional to help in any area of your life, doing your homework is key.
Accreditations
Make sure the designer has appropriate accreditations & uses the latest digital tools and resources. Detailed and vivid plans, truly photograph-like renderings mean there is less chance for miscommunication. Plus computerised plans make adjustments faster and easier. A quick look at the firm's website can tell you if they are up to date and moving forward or just resting on past laurels.
Relevant experience
The designer's previous experience has to be looked at carefully; many designers will claim that they can just about design anything.  Perhaps they can, but not to the quality level and the so very important relevant ambiance that is expected, so the previous experience in the quality level of the project is vital to success. Hiring an experienced designer should save you time and money, minimise bumps, streamline the building process, and provide an accurate picture of how the project will turn out before a single nail has been driven in.
Constant communication
Communication is vital to get the vision across and the team needs to constantly convey problems and find solutions to solve them. Keep in mind that any project takes time, stellar design is not born overnight.
On the same page
A certain amount of interaction is required to make sure that all parties are on the same page, have the same or a very similar vision and willing to go that extra mile together to make the project outstanding. During initial consultations, ask lots of questions, communicate clearly what your goals and expectations are.
All in the details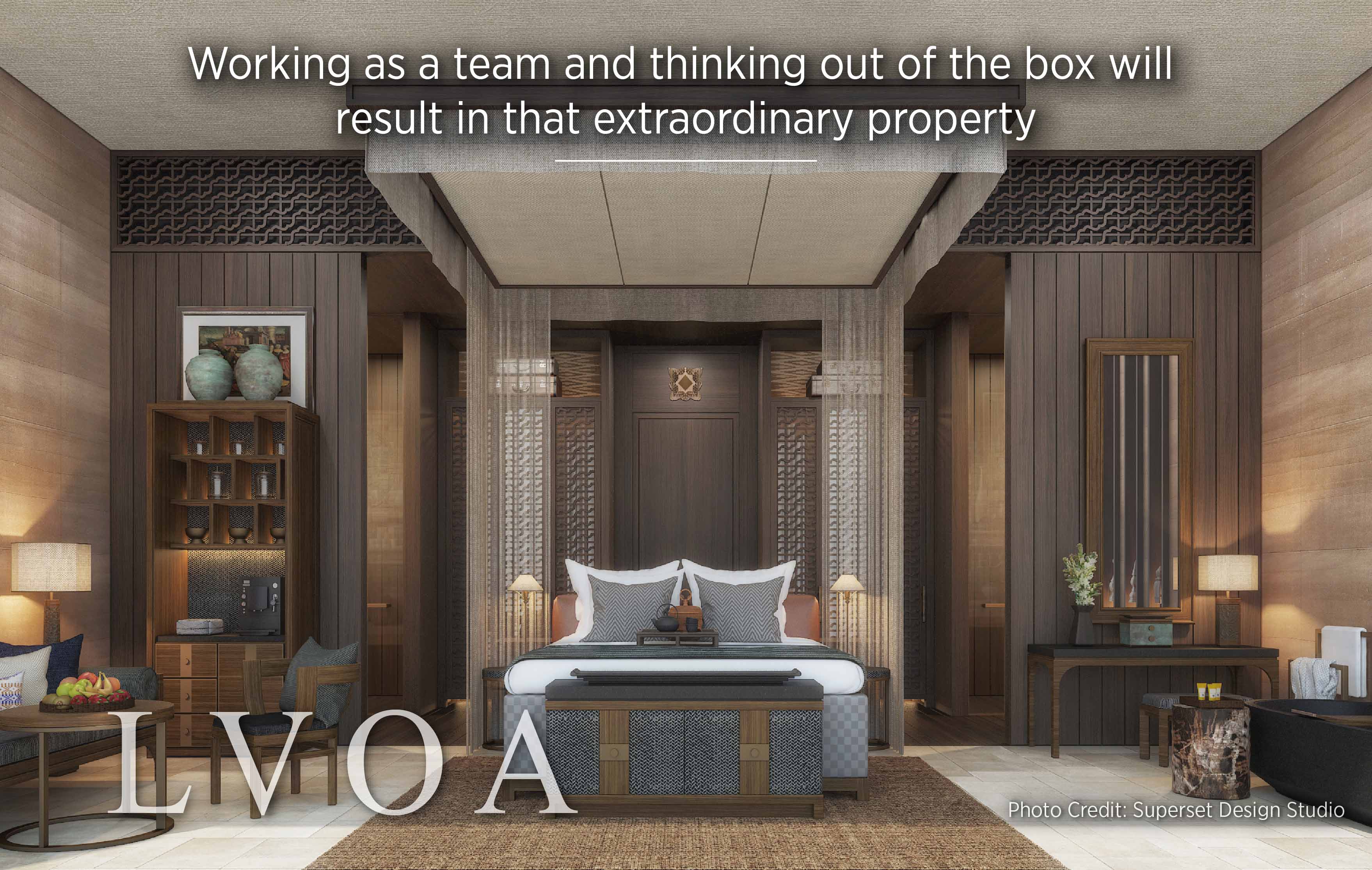 The project directors from different disciplines must be able to work together as a team; there are always different points of view, there are always egos at play, but those differences of opinion actually push the designers to think out of the box and achieve that extraordinary moment where great design comes into this world.
Pushing the boundaries
The hotel owner, his or her representative and the project director have to keep pushing the boundaries for the sake of the project and never lose sight of the ultimate goal. Keep in mind that it is not about the egos of the designers, the developers or the operators. Ultimately it is only about the project and this is where you end up with iconic destination projects, be it a hotel or resort.
The right team
All design projects have their ups and downs. Be sure to meet the team members you'll be working with on a day-to-day basis. Always request a meeting with the potential project team to determine if your personalities and priorities match. It's a long term relationship, and one that can be very enjoyable and exciting with the right team involved. Ultimately it all boils down to finding the right personality fit, nothing beats human chemistry.
A perfect example of this type of situation and relationship is one that I have had for years with Thierry Janssens, Creative Director of Superset Design Studio in Kuala Lumpur, always pushing the boundaries, always open to constructive input and with the ultimate goal always being the success of the project.
Background checks
Time-honored traditions of asking friends and colleagues for recommendations, along with newer traditions such as checking out ratings at websites are a good way to begin looking for the right designer.
Terms and conditions
When selecting your building designer always enter into a written contract that sets out the terms and period of payments, time lines and details of the precise nature of the scope of services to be provided. A written contract properly detailing the rights and obligations of both parties reduces the potential for any disputes that might arise. Not only are the plans and drawings an integral part to the success but properly detailed specifications are also essential, as this document details the quality and standard of materials and workmanship to be carried out by the builder.
If you like what you just read click follow Larry Van Ooyen Associates Ltd and stay tuned for more articles from our Associates..