A ghost kitchen, also known as a dark kitchen, virtual kitchen, or cloud kitchen, among other names, is effectively a delivery-only kitchen. A ghost kitchen may operate as a delivery-only restaurant, host several different restaurant concepts, or serve external, even multiple, restaurants.
Described as a "coworking space for restaurants," or the "Amazonification" of the dining experience, ghost kitchens enable restaurants to cater to the surge in food delivery caused by increased use of food delivery apps, as well as the restrictions placed on restaurants during the pandemic.
History of ghost kitchens
The term "ghost kitchen" was first coined in New York in 2015 after restaurant owners were found to be listing their brands under different names on different food delivery apps. However, delivery-only restaurants are not 100% new, especially when it comes to fast food such as pizza, or drive-thru venues. The pandemic has accelerated the growth and diversity of ghost kitchens, and they are now an accepted business model.
Benefits of ghost kitchens
The most obvious benefit of ghost kitchens is that they meet the rise in demand for meal delivery. The food delivery market is worth an estimated USD150 billion, having tripled since 2017. Even before the pandemic, while the restaurant industry grew 3-4% annually, food delivery was increasing 7-8%. This is attributed to convenience and the preferences of tech-savvy Millennials and Gen Z. Of course, as the pandemic forced restaurants to close, all sales moved online and food delivery became the new normal. In pandemic recovery, it remains to be seen whether in-person dining and food delivery will rebalance the same as it was pre-pandemic.
Ghost kitchens also lower costs for restaurants, such as having a physical premises (especially in a prime location – it could be down an alleyway or further out from downtown, meaning a lower rent per square meter) and labour costs of waiters, bartenders, hosts, managers and cleaning staff. This is particularly important during the pandemic, as restaurants need to keep costs low to survive.
For restaurants that still operate a premises, ghost kitchens allow establishments to keep dine-in separate from delivery, so pressure is taken off the kitchen and delivery orders don't interrupt guests' experience when it comes to parking or delivery drivers picking up orders. Other financial benefits include sharing a kitchen with another operator to save money and offering several types of cuisines under different names or concepts under one roof.
This brings us to creativity. Ghost kitchens are not only a cost-cutting pandemic pivot, but also provide opportunity for restaurants to experiment. Ghost kitchens can easily adjust menus based on customer analytics and availability, try out new menu items to judge popularity, or even launch whole new restaurant concepts before committing to opening a physical restaurant space. With food delivery, the focus is on the food, rather than the service, ambiance, or setting – so the food must speak for itself.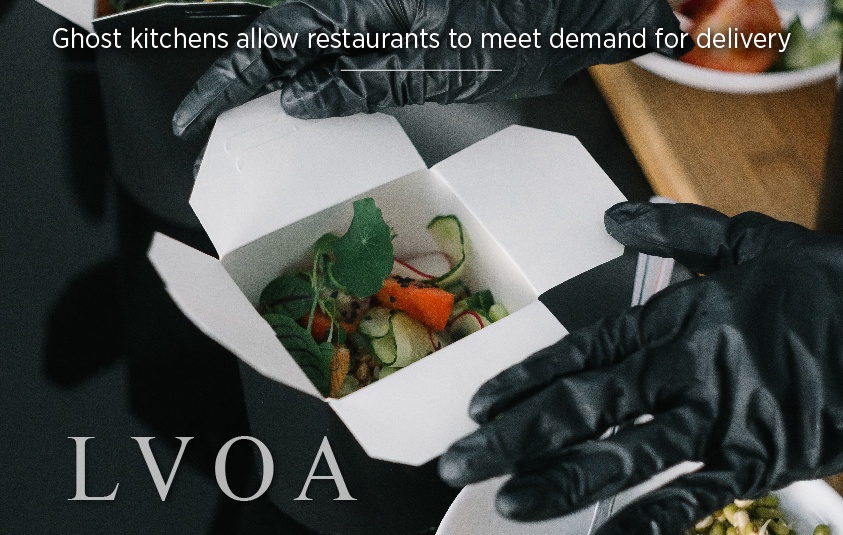 Challenges of ghost kitchens
However, there are challenges to running a ghost kitchen. Solely offering online delivery removes the "hospitality" aspect of a restaurant. Without opportunity for customer interaction, a restaurant lacks personality and soul. For restaurant concepts that rely on a theme, ambiance, or location (especially footfall traffic), this can be a major loss.
What's more, third-party delivery can be unreliable and expensive. In Thailand, food delivery services such as Grab, Foodpanda, Gojek and Line Man (which are all based outside the country) have majorly profited from the delivery boom, but have been accused of exploiting stakeholders; charging restaurants 30% and drivers 15%, while keeping prices low for consumers due to high competition. Many restaurants complain that the industry standard 30% eats away too much at their own profit margins, so food delivery via a third-party app is not a sustainable option.
There are also drawbacks for the consumer. Food presentation and temperature is not optimal when it arrives, while the increased plastic waste from packaging is not good for the environment.
Examples of ghost kitchens
Here in Bangkok, directors of multi-chain restaurant brands have openly spoken about pivoting to ghost kitchens during lockdowns. Atchara Buraruk, founder of the Iberry group, started using ghost kitchens to continue operating when restaurants and malls were ordered to close. Some are designed to be temporary until establishments can fully reopen, others have the potential to be turned into dine-in restaurants at a later date, while some may become permanent:
"We will never go back to the traditional concept in which our restaurants are located on the high floors of retail complexes. Such a concept makes it very difficult to engage in delivery services, as our staff has to carry food to riders on the first floor."
The ghost kitchen concept is also evolving. Food delivery businesses themselves are opening ghost kitchens. JustKitchen operates 17 ghost kitchens in Taiwan, one in Hong Kong, and also plans to expand into Singapore and the Philippines before the end of the year. Grab opened 20 ghost kitchens in 2020 in Singapore, up from 42 before the pandemic. These can be run with restaurant partners or even host restaurant concepts solely owned by the food delivery services themselves, creating a vertical model. The opposite is also true, as some restaurants create their own digital platforms to cut out the middle man. Bangkok's Pizza Mania offers free delivery as well as extra menu items to incentivise customers to order through their website or Facebook, thereby eliminating the need for third-party delivery.
Are ghost kitchens here to stay?
All current data points to the growth of the ghost kitchen market, so it makes the most sense for existing brands to capitalise on this trend and for new restaurants to consider the ghost kitchen concept before investing in a physical premises. The pandemic has accelerated growth, but the trend was already growing pre-Covid. What's more, the trend is still adapting and changing form, and it will be interesting to see new versions of the ghost kitchen concept still to come.